Thanks for your Order!
I hope you find the All You Can Eat Love Diet very useful in your journey to long term weight loss. If you've tried many diets over the years and nothing seems to work, this book will explain why, and what to do about it. These ideas have helped a great many people not only lose weight long term, but also to improve their lives in many other ways. 
Please Bookmark This Page Now
If your computer crashes before you bookmark this page, you won't be able to download your ebooks, so please bookmark this page right now. Thanks!
Credit Card Billing
Your credit card bill will show a charge by: CLICKBANK / KEYNETICS.

How To Download Your Books
You will need the free Adobe Acrobat reader for these books. Please make sure that you use at least Acrobat 4.0, as previous versions don't correctly display these books. If you don't already have Acrobat installed, or you need to upgrade to the latest version, download it for free at:

The All You Can Eat Love Diet
To download your new book, right click on the image below and select Save: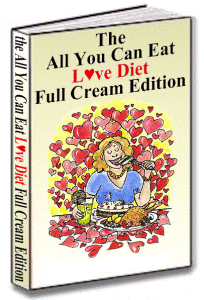 Here Are Your Free Bonuses 
In appreciation for your order, here are your free bonuses worth $122.55. Actually, they're worth much more than that, as you'll see below …

Free Bonus #1, #2 and #3 (value $48.90): free access to several of author Peter McWilliams' New York Times best sellers, including:

Just click on any of the above book covers to go to his web site where his books can be read online. You might notice that there are 10 books available to read for free, not just 3. You'll find that many of the others are relevant to enjoying life more.

Free Bonus #4 and #5 (value $33.90): two of John Harricharan's best selling books:

As another unexpected bonus, you can also download John's inspiring third book for free by clicking on the following link:

Free Bonus #6 to #10 (value $39.75): five more ebooks assembled by international self improvement author and publisher Christian Godefroy, all relating to the subjects of this book:

All these bonuses will help you to achieve your goal of easy, sustainable long term weight loss without the usual roller coaster of both weight and emotions. Oops! It seems you can download 15 books there, not just 5. I hope you enjoy the extras 🙂
Another extra free bonus #11 (value $13.95): a wonderful book for the romantic in all of us by Michael Webb, who is often referred to by the media as "The World's Most Romantic Man." His credits include over 500 television and radio shows including Oprah and The Other Half.
To save this book on your PC, right click on the image below and select Save:

I appreciate the trust that you've placed in me by ordering the All You Can Eat Love Diet, and very much hope that mastering its contents will lead you more love and less excess weight. Even if you've not managed to achieve it so far, it is possible, and now you have the all tools you need. 
Let me know how you go, I'd love to hear your success stories!
All the best,
Ed

Life Coach